And I don't mean what our blogs talk about behind our backs.
I'm sure most of us have heard about personality tests. Introvert. Extrovert. Artist. Analytical. So on and so forth. But now someone's put together a nifty little site that attempts to decipher our personality types by analyzing our blogs. (I totally stole this idea & site from
Adam Purple
, btw)
The best part is, it's super fast . . . and from what I can tell, fairly accurate.
Here's what the
type analyzer
site had to say about the creator of Forever Endeavor (
that's me!!
)
ISFP - The Artists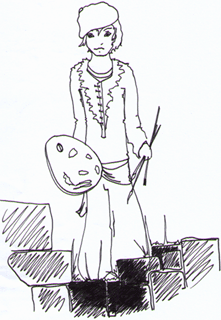 The gentle and compassionate type. They are especially attuned their inner values and what other people need. They are not friends of many words and tend to take the worries of the world on their shoulders. They tend to follow the path of least resistance and have to look out not to be taken advantage of.

They often prefer working quietly, behind the scene as a part of a team. They tend to value their friends and family above what they do for a living.
What did everyone else get?
Two other things real quick:
1) If you have a few minutes to kill hop on over to Shannon McMahon's blog. Shannon has decided to open her blog up to anonymous critiques. Want others to give you their opinion on your first 250-500 words? Have a certain trying scene you want feedback on? Shannon is offering her blog as a place to do it anonymously. People are more apt to honestly critique an anonymous stranger, than a friend. So stop by, lend your thoughts, and don't forget to mention to Shannon if you'd like to take a shot!
2) Check out the couple of blogfests I'm partaking in this month. One to spread the holiday fun and one to spread the query fu. . . well, one for those of us who are looking to strengthen our query letters. And hey if an agent or two happen along to read a few, we're not gonna complain, right?